Bradford Era –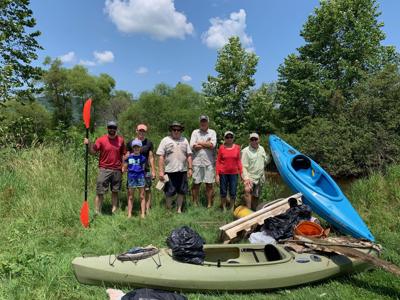 (Picture) Participants in the Upper Allegheny Watershed Association's 2019 River Cleanup stand with some of the garbage collected and kayaks used to travel the waterways. This cleanup was done in partnership with the Potter County Conservation District near Roulette. UAWA covers the Allegheny River's drainage in Potter and McKean Counties.
With the release of a study funded by Keep Pennsylvania Beautiful, new efforts to fight littering will shift focus toward prevention rather than cleanup for several Pennsylvania agencies. On Wednesday, the Department of Environmental Protection (DEP), Department of Transportation (PennDOT), and Keep Pennsylvania Beautiful announced the formation of a state-led workgroup to shift strategy from cleanup to prevention.
"Pennsylvania has a littering problem that cleanup efforts alone can't solve. Litter undercuts our quality of life and the health of our waters and soil. It shortchanges community improvements and economic development, as funds that could otherwise be spent more productively instead go to trash cleanup," said DEP Secretary Patrick McDonnell.
Field research results indicate more than 502 million pieces of litter on Pennsylvania's roads. The most common items are cigarette butts (37 percent) and plastics (30 percent), with plastic film and beverage containers most prevalent. There are an estimated 29.3 million beverage containers alone on the roads. Motorists and pedestrians are leading sources of litter, followed by improperly secured truck loads.
"We always see electronics, especially televisions, in addition to: tires, furniture, and household garbage during our illegal dump site cleanups. Along the roadways there are always food wrappers, bottles, cans, plastic, etc…we do see tires dumped along the road also," said Heather McKean of McKean Environmental, when contacted about litter in McKean County. "Education and awareness of proper trash disposal and the impacts littering and illegal dumping can have on wildlife and our water resources is important. Additional recycling opportunities throughout the county are needed."
McKean went on to explain there are regular events to help recycle items like tires and to address areas commonly used as dump sites.
"Our local Keep Pennsylvania Beautiful Affiliate, PA CleanWays of McKean County, holds a tire recycling event each July. Local residents pre-register and prepay for tire disposal at a reasonable cost and bring them to the collection to be recycled," McKean said. "The Affiliate also organizes one or two illegal dump cleanups each year. We see repeated dumping at several locations in the County that have been cleaned up in the past, which is one of our biggest challenges."
A study, commissioned by Keep Pennsylvania Beautiful, found that nine cities statewide collectively spend more than $68 million each year on cleanup, education, enforcement and prevention efforts related to litter and illegal dumping. Statistics show that 80% percent of costs go specifically to cleanup.
According to a release from the PA Department of Environmental Protection, the breakdown is as follows: Philadelphia spends more than $36 million; Pittsburgh and Allentown spend more than $2 million; Harrisburg, Lancaster, and Reading spend over $1 million; and Altoona, Erie, and Scranton spend hundreds of thousands of dollars each year.
Meanwhile, PennDOT spends upwards of $13 million per year on staff and resources to pick up litter along state-owned roadways.
"Cleanup is not a sustainable strategy," said Acting PennDOT Secretary Yassmin Gramian, "and the enormous amount of resources committed to it mean less funding for other transportation uses, such as improving roads."
DEP, PennDOT, and Keep Pennsylvania Beautiful will form a workgroup of state government agencies, local governments, and industry and community leaders to use the research results to develop and carry out a plan of actions to reduce littering in Pennsylvania. For that workgroup, efforts will focus around strategies to change behavior. The four top priorities include infrastructure, education both public and school-based, legal measures and incentives and efforts to enforce the laws already in place.
"We're seeing that even extensive and expensive cleanup efforts can't keep pace with the amount of litter that's accumulating," said Keep Pennsylvania Beautiful President Shannon Reiter. "The only way to reduce this cost burden is to reduce littering through preventive measures, such as expanding solid waste and recycling infrastructure and developing effective school-based and consumer education."