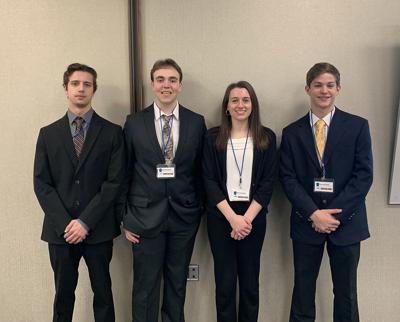 The Bradford Era– CLEARFIELD — The Pennsylvania Department of Transportation (PennDOT) announced on Tuesday that a team of students from Bradford Area School District is selected as the PennDOT District 2 winner for its third Innovations Challenge.
Team members include Ian Grady, Samantha Gray, Alex Marrone and Nick Ward. They were mentored by Pete Eckstrom.
Since last fall, students have been working hard to solve this year's challenge: Aside from laws, programs and educational campaigns, what cost-effective, innovative solution can be developed in the next five to 10 years to help PennDOT more efficiently, effectively and safely control litter along roadways?
"Last year, PennDOT spent nearly $13 million cleaning up roadside litter across Pennsylvania," said Acting PennDOT Secretary Yassmin Gramian. "These dollars could have otherwise been spent on delivering a better transportation network and making Pennsylvania a better state in which to live."
The winning regional team's innovation was a sorting belt that would allow workers to sort litter as they are collecting it. Using their belt and a reaching claw, they demonstrated their idea could significantly reduce the amount of time spent cleaning up roadside litter and allow PennDOT to realize cost savings.
Now in its third year, the PennDOT Innovations Challenge invites high school students in grades 9-12 to use their problem-solving, creative and strategic-thinking abilities to solve real-world transportation challenges. The Innovations Challenge aims to not only help students explore actual transportation challenges that PennDOT is facing, but also open their minds to the very real possibility of working for PennDOT after graduation.
"Today's students are tomorrow's leaders, and the ideas we saw during this challenge assure us our future is in good hands," said Tom Zurat, PennDOT district executive. "We offer our congratulations to Bradford on their selection as a finalist and wish them good luck at statewide judging."
Regional winners will now move on to compete in Harrisburg for the state championship.
The Pennsylvania Chapter of the American Traffic Safety Services Association (ATSSA) and the Keep Pennsylvania Beautiful (KPB) organization are providing a combined total award of $3,000 to be divided among the first, second and third place statewide winning teams.